I got a real nice CCD camera from work the other day. This guy:
http://www.princetoninstruments.com/Uploads/Princeton/Documents/Datasheets/Princeton_Instruments_MEGAPLUS_EC11000_A1_1.pdf
We used these to film the movie Coraline. Didnt work so hot, software issues. And real expensive, somewhere between $15,000 and $20k per set. Not the perfect astronomical camera, but should be better than a dSLR. Now we use off the shelf software and sSLR's.
So, I want to build a telescope to use this guy with. I dont want to go all out like Evan has so I figure on something simpler. I may do a similar cell design though.
This is what I am thinking of using for a tube: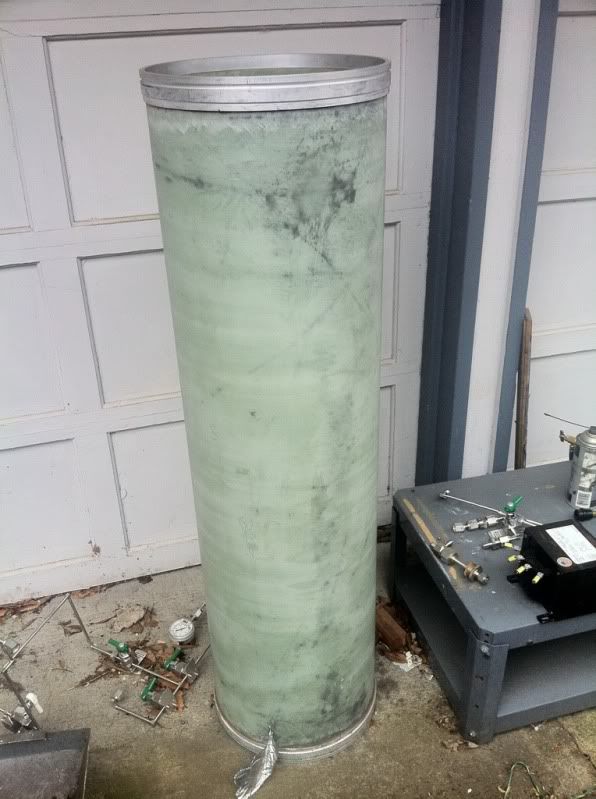 Its a tube made from Garolite G-10 from a Nuclear Magnetic Resonance magnet. It has a 12.5" bore and right at 48" long and somewhere around 1/16-3/32 thick. The aluminum rings are epoxied. This puts it on the edge for the 8" and 10" kits on Coulter's Optics site (
http://www.e-scopes.cc/
). They have a F number of 6 and 5 respectively so the length of the scope will be pretty close whichever I choose. Its hard to be the prices there. $299 for a 8" parts kit.
I was also thinking of getting a piece of AR coated glass to use for a secondary support. This would eliminate the artifacts from the spider with a slight loss in light, but since it will be a mostly an imaging telescope I can get away with longer exposure times to compensate.
I think I will do a Alt/Az drive. I have a nice harmonic gear box with a DC servo that I can drive for azimuth, not sure for alt yet.
What software is out there for telescope control? I am hoping something I can just set up and do step/dir control.